Adelaide (Online)
Become a Cloud Practitioner
Next program starts 14 June 2022 (scroll down for more info)
Apply Now!
Take the tech world by storm!
Be part of something great.
The world of tech is moving quicker than ever, and cloud infrastructures are taking the main stage. There's never been a better time to join the tech sector!
In this program, you'll get the skills and training you need to get a job as a Cloud Practitioner. This bootcamp style training will be full-time, 5 days a week for 13 weeks. This includes technical training provided by Academy Xi combined with hands-on projects and employability skills development. At the end, Generation Australia will continue to work with you to secure and train for interviews, and ensure all graduates gain meaningful employment.
What is the cloud?
The cloud refers to services and software that run on the Internet, instead of locally on your computer. Cloud infrastructures have become increasingly valuable. They're all around us: every time we access multimedia from the internet or run a software program without installation.
The benefits of cloud for individuals, businesses, and society include: flexibility, cost, disaster recovery, accessibility, scalability, security and customisation — and that's just the beginning! Cloud is an area that is growing every day. For this reason, the world relies on committed and responsible Cloud Practitioners to ensure everything runs smoothly.
Microsoft Azure

This program prepares, trains and certifies you for Azure, Microsoft's public cloud computing platform. Azure provides a range of cloud services, including compute, analytics, storage and networking. An Azure certification can get you into different roles in industries like healthcare, finance and entertainment. It's favoured as a cloud platform for its hybrid compatibility, trusted security features and AI innovation.
What is included in the program?
No cost to you
Access to online learning with tech professionals
Inclusive & holistic support throughout course
Support connecting you with employers at the end of the program
Hands on practical experience in Azure Cloud Computing
AZ900 Certification
Through this special partnership with Workskil Australia, every learner will be supported with the right resources to start a career in tech
Safe Learning for First Nations Peoples
This program has been designed to empower First Nations learners. As an Aboriginal and/or Torres Strait Islander person in this program, you will have access to:
The Tauondi Study Hub with relevant IT facilities available in Port Adelaide
A First Nations mentor who will provide individual support throughout the program
Can I apply?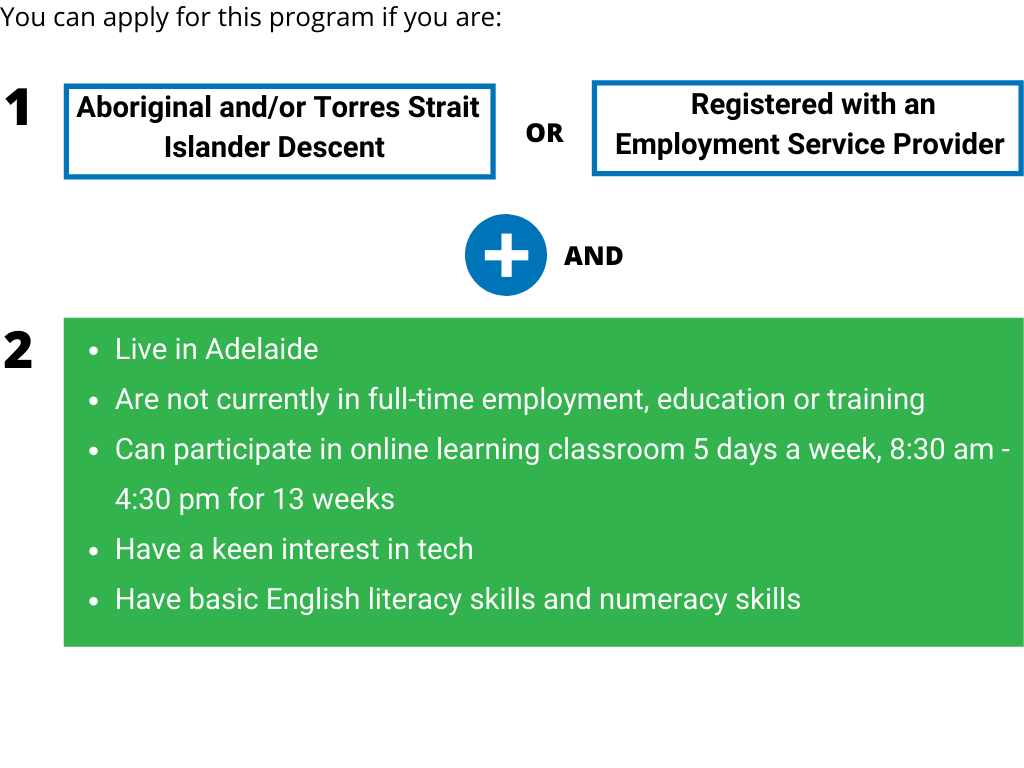 Program Length
13 weeks
Monday to Friday, 8:30am to 4:30pm ACDT
Online learning
Start Date
14 June 2022
Proudly funded by:
Delivered in collaboration with / support from:
Skills Earned
Technical Skills
---
In the Cloud Program, you'll be equipped with the skills you need to gain an entry-level role working with Cloud infrastructure with a specific focus on Azure. This 12 week program will have you job-ready with:
Linux & Python Essentials
DevOps Essentials
Azure Cloud Fundamentals
Azure Administrator
Cloud Automation
Behavior & Mindsets
---
In every job, there are key skills that will help you be successful. We'll help you learn how to:
Collaborate effectively with colleagues in a cross-functional team
Practice & refine your communication skills with peers & instructors
Understand and develop a growth mindset
Be forward thinking and consider processes from end-to-end
What your journey will look like
1

Complete your application

Go through the selection process outlined earlier

2

Meet your mentor

If you gain a place, you'll meet with your mentor before the program starts to make sure you have all the support you need to achieve your potential.

3

Start your training

The program begins! You'll learn the behaviours, mindsets and technical skills to succeed in the end role.
4

Get ready for your interview

As training progresses, you'll work with the Generation team on your interview technique.

5

Graduate!

Graduate and celebrate your achievement with your friends and family.

6

Post Program Support

We'll provide you with the opportunity to have industry expert volunteer coaches to help keep your skills developed, as you apply, interview and match with potential employers and career opportunities.
How we prepare you
In a world of job training programs, Generation takes a different approach to help you succeed. Generation instructors and mentors get to know each student and are there with resources, tools, and information if a student encounters a barrier.
Coaching
The instructors and mentors at Generation aren't just teachers, they're coaches who stand by their students through successes and challenges.
Resume Building
The right resume can open the door to new career opportunities. Generation students learn how to create a resume that showcases their skills and experiences.
Interview Rehearsal
By conducting mock interviews, then providing real-time feedback and coaching, the Generation team ensures that all graduates feel confident and prepared to interview.
Ongoing Support
After graduation, mentors and instructors continue to check in with alums, providing support with the job search and advice for continued success.
Ongoing benefits of Generation
A Trusted Network
Continued contact with the Generation graduate network
Events
Events and workshops to help you keep growing
Give Back
Become a mentor to help others
Support
Troubleshoot your job challenges