EVENT: LAUNCHING A TECH HIRING REVOLUTION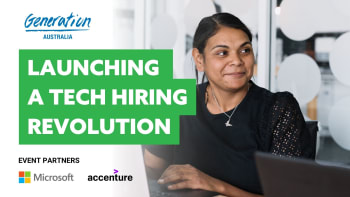 Date: Thursday, 2nd November
Time: 2pm – 4:30pm
Location: Microsoft Office, Lvl 27, 1 Denison Street, North Sydney
Where have all the entry-level tech jobs gone?
Generation has released a comprehensive report titled 'Launching a Tech Hiring Revolution'. Microsoft also released a report in partnership with Accenture at the Digital Employment Forum 'Break down the barriers. Hire for skills not just degrees.'
Both reports highlight the need for systematic hiring changes to build more diverse entry-level pipelines. Across every country and industry, employers face the challenge of recruiting entry-level tech talent. Genuine entry-level roles are being overshadowed by prerequisites such as university degrees and prior work experience. To repair this job ladder, employers need to radically rethink how they approach the very first rung.
Join Generation Australia for an in-person event co-hosted by Microsoft and Accenture in which we will:
Highlight the findings from the reports about hiring and opportunity in entry-level tech roles
Delve into insights from employers embracing skills-focused recruitment
Hear inspiring success stories from Generation Australia graduates on their learning and employment journey
Engage in a workshop facilitated by Accenture on implementing alternative hiring pathways, empowering participants to drive transformative change within their organisations.
This event is tailored for recruitment managers, leadership teams, early talent program leaders and those who are passionate about revolutionising tech hiring practices and fostering a more inclusive and skill-focused approach in their organisations.
Let's shape a future where talent knows no bounds!
Event Partners: