Tech Diversity Awards 2023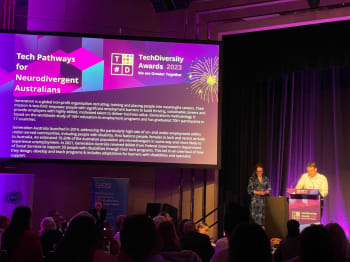 Generation Australia was delighted to accept the 2023 Tech Diversity Award in the Education category in Melbourne last week. Our submission, 'Tech Pathways for neurodivergent Australians' highlights the program adaptations and specialist support we provide to neurodiverse learners ensuring they have the best chance of securing meaningful and sustainable employment upon graduation.
Generation Australia CEO Malcolm Kinns says, "recognition through national awards like this are a really important way for us to reach more people, and demonstrate the need for diversity in tech hiring practices. I'm really proud of all the team at Generation Australia who listen and challenge the status quo, which has led to our incredible success in helping neurodiverse Australians and others who face barriers."
Congratulations to all the other winners on the night, a full list can be found on the Tech Diversity Awards website here.