Women Transforming Their Lives through Employment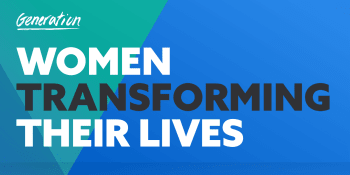 On International Women's Day, we recognize the more than 42,000 women who have completed Generation programs globally (54% of our total graduate population) since 2015. They have successfully launched careers in a wide range of fields (including technology, healthcare, green jobs, customer service, and skilled trades), are earning stable salaries, have gained promotions, and have transformed not only their own lives, but the lives of their families.
"Generation has changed my life. I'm working towards achieving everything I ever wanted to. And that's, in large part, due to me being part of a Generation program." —Fatima, UK
Despite the sizable uncertainty the last several years have injected into the global economy, and the outsized effect of those changes on women, Generation women graduates have made lasting improvements to their financial situation and general well-being. In 2019, before entering Generation's programs, only 8% of women were employed. Three years after completing the program, 62% remain employed. Only 22% could meet daily needs before they joined Generation, rising to 66% of women three years post-graduation.
"In many of the places we work, women face barriers to employment due to their gender and are underrepresented in high-growth professions like those in tech. We are proud that more than half of our graduates are women," said Generation global CEO Mona Mourshed. "These talented individuals have successfully launched careers in technology, healthcare, green jobs, customer service, and skilled trades. They have gained marketable skills, earned stable salaries, excelled at their work, and won promotions. They have changed the trajectories of their lives and those of their families."
According to a recent UN report, less than 50% of working-age women are in the labor market, a figure that has barely changed over the last quarter of a century. Unpaid domestic and care work falls disproportionately on women, restraining their potential to improve their economic mobility. For instance, in Pakistan, one of the countries where we offer programs, the workforce participation rate for women is 20%, one of the lowest rates in South Asia and globally.
"I struggled a lot to find a job, or to find a place where I could learn the things I was weak at. Thanks to Generation, I found work, and I am able to support my family." —Ayesha, Pakistan
What's more, women face particular barriers to entering high-paying, high-growth professions like those in the technology sector, where women make up only a fraction of employees. For instance, in Europe, women occupy only 22% of all tech roles across small, medium and large-sized European companies. And, in Latin America, fewer than 10% of software developers are women, despite being one of the fastest growing careers in the region. In our tech programs across 17 countries, 45% of graduates are women and these professions offer particularly strong long-term opportunity — 83% of Generation women tech graduates remain employed 2-5 years after graduation and 60% are able to save for the future.
"At first, I was thinking tech is a very male dominated sector. But then I found out there's actually quite a lot of women joining the tech industry, you just don't hear about it. That got me thinking, if they can do it, why can't I be given the opportunity?" —Sidra, UK
Learn more about the stories of Generation women who have transformed their lives through employment here.