Australian Alumni Ambassador – Sebastian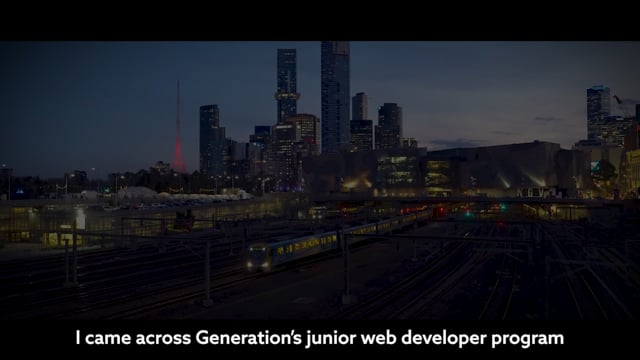 Alone and cash-strapped in the pandemic
Sebastian immigrated from Colombia in 2014 to attend university in Australia. His parents sacrificed to fund his education abroad. He majored in Marketing, with the plan of paying back his parents in full once he was gainfully employed.
Upon graduating, Sebastian faced a protracted and disheartening job search. He began to see the problem: he lacked the digital skills companies wanted, and which were not part of his education at university. But nevertheless, after about two years of intensive job searching, he did finally receive an entry-level offer for a role in marketing at a pharmaceutical company.
It was the Spring of 2020. Two days after he signed the contract, the Prime Minister announced the country was going into lockdown due to COVID-19. Soon after that, his offer was rescinded.
This quickly led to a cascade of unfortunate events that took a toll on Sebastian. Since he was not yet a permanent resident, Sebastian did not qualify for any government benefits. But he had lost his part-time job in the service industry because of the shutdowns. He scrambled and found a low-paid, late-night gig as a personal shopper at a supermarket, an hour away from home. During the day he sent out job applications and studied (hearing nothing back from prospective employers), then headed to the supermarket in the evening, racing back after each shift to catch the very last train home again. "I did this for a very long time," he told us.
Gaining the skills he was missing
He finally came across Generation's Web Development course on a widely used job search platform. He had researched similar programs during the lockdown, knowing he needed to accrue more digital skills, but had been overwhelmed by the cost (most ran about $9,000 he told us). He was shocked to learn that Generation was free.
What further surprised him about Generation was that he didn't just gain a rigorous technical background, but received a master class in the soft skills he knew employers were looking for. "Here in Australia, in the job interviews, really what they ask you about are soft skills. Not many programs have that component."
He continued to work at the supermarket at night while attending the intensive boot camp during the day. It was a hard time, but his classmates and mentors at Generation made all the difference. "It's a very close, inclusive community," he told us.
A whole new world of possibility opens
Very soon after completing the program, Generation sent his CV to various partner companies and he got an invitation for an interview at Infosys. He was thrilled to accept their offer. "I don't think I've ever been so happy in my life as when I quit that night job at the supermarket," he told us laughing.
His starting salary was a shock. It was significantly more money than he would have made with the marketing job he lost out on at the start of the pandemic.
Today, he can easily afford to live on his own, and to enjoy the wonderful coffee culture and street-life Melbourne is famous for. He is massively relieved to be paying his parents back each month, when his check comes in. He can travel – making visits at least once a year back home to Colombia to visit his family.
Most importantly for him – he is confident. At Infosys he works as a consultant, serving many important Australian companies, including a very large bank. His skill-set continues to grow and evolve, and with all the opportunities in technology now at his fingertips, his future looks exceedingly bright. "Now that I have all these incredible digital skills, I receive offers through my LinkedIn profile, even without applying," he says with a huge smile.
As one of Generation's inaugural cohort of ambassadors, he is particularly excited that he is now also in a position to give back, helping folks who are today in a similar situation that he once faced. "These programs have been impacting the lives of many, many people across the world. And I feel so lucky that I am now part of Generation," he told us.