Partnership paves the way for First Nations opportunities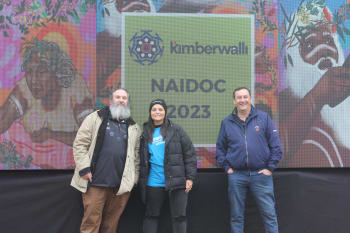 Generation Australia and Kimberwalli have united in an innovative partnership, designed to develop opportunities for First Nations people in Western Sydney as part of a commitment to dismantle the boundaries around education and employment which often exists.
The partnership will see the two organisations unite to actively recruit First Nations people, and provide a physical location for Generation Australia to deliver a hybrid training program normally offered online.
Generation Australia's education-to-employment program prepares graduates for a rewarding tech career, developing skills in web development and Cloud computing,  and includes First Nations mentorship and job placement support. An additional program in the care industry will be released later this year.
Kimberwalli's Director in the Department of Education, Aboriginal Outcomes and Partnerships Directorate Kelly Stanford said, "The ability to use digital technologies has become both an essential life skill, and capability for job seekers and employees, regardless of their age, job function or industry. By delivering this important skills development opportunity at a culturally safe community space, with genuine pathways to employment and wrap-around mentoring support, this partnership provides an amazing opportunity to contribute to closing the gap in education, employment outcomes, and digital inclusion in Western Sydney." 
An intense recruitment campaign is now underway, and First Nations people are encouraged to apply for a place within the programs.
CEO Generation Australia Malcolm Kinns said the organisation is committed to strengthening educational pathways and enhancing sustainable employment outcomes for First Nations Australians.
"Kimberwalli is a beacon of hope for our First Nations community in Western Sydney.  It is a privilege for us to partner with them and offer opportunities to the people in this area, while also providing our employer partners with the diverse talent that they need", Mr Kinns said.