The Importance of Unrestricted Funding | Australia
December 21st 2022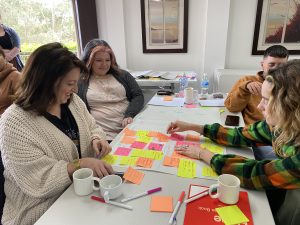 Financial stability is necessary for any business to grow and mature, and social enterprises are no different. Unfortunately, there are some big hurdles with funding. The first is access to sufficient capital to scale impact in a sustainable way.  The second challenge is recurring funding. Whilst funding may be renewed year on year, or granted upfront for multiple years, there is significant effort and uncertainty required in securing this capital. When a government changes or a person leaves a company, funding priorities can quickly shift, sometimes forcing doors to close. The third challenge is restricted funding which is bound by targets and tightly defined parameters. Restricted funding allows the funding company to meet their CSR targets and has the appearance of being measurable, however it can create complexities for the organisation in delivering against set criteria.  This often binds nonprofits to a fixed strategy that may not be in the long term interests of the people it serves. Linked to this, is the effort required in ongoing reporting and administration.
When organisations are forced to operate in this way, experimentation is curtailed and decisions are made in line with reporting requirements. Short term solutions have to be prioritised. What impact organisations most need, is foundational funding that allows them to maintain sustainable long term operations, providing a buffer for the gaps in between. Organisations can apply learnings and iterate, and staff are retained beyond a project, election cycle, or calendar year.
Generation Australia is a non-profit training platform that supports underrepresented groups including migrants, women, First Nations and people with a disability, into roles that are in-demand. The approach is holistic; learners are provided with the technical knowledge as well as behavioural skills such as growth mindset and post-program employment support. Thanks to an unrestricted funding deal from AVPN in late 2021, Generation Australia was able to partially fund 2-3 positions in recruitment and job placement which directly elevated the opportunities for those in need, particularly during Covid.
This year, Generation Australia teamed up with two of Australia's largest foundations who provided over $1M of unrestricted funding per annum for three years (2023-2025).  This funding will enable Generation Australia to grow their impact with the most vulnerable populations, innovate the delivery model, and share learnings with the broader education to employment ecosystem.
Right now, Australia is in the depths of a skills shortage particularly in tech and healthcare. Traditional education pathways often take many years to deliver students into jobs. According to CEO Malcolm Kinns, this is the gap that Generation addresses. "Businesses are changing so fast, particularly in the tech sector, and alternative education to employment pathways are needed to support the demand. A major trend that is occurring is accelerated skills development. Getting people into roles faster means they continue to learn on the job and start making a difference sooner".
Additionally, companies are looking for diverse talent, either to meet CSR targets, address skills shortages or because they understand that diversity leads to innovation and business success. Generation Australia works with over 150 employers including major players like Telstra and Accenture who are recruiting Generation graduates. Head of Partnerships, Dylan Turnbull says, "Employers who are genuinely invested in achieving targets, understand that investment is required to shift the dial on diversity. You need to have executive sponsorship, longer onboarding periods, and a willingness to broaden the educational pathways people come from."
Our mission at Generation Australia will always be to support underserved people into meaningful careers. We strive to focus on the macro picture of skills shortages and more inclusive Australian workplaces. Our model is scalable and we are looking for further supporters to join the coalition. Expressions of interest from investors that embrace the same vision of equity in education and employment as we do are always welcome.