Generation Australia helps lab worker to unlock a new career path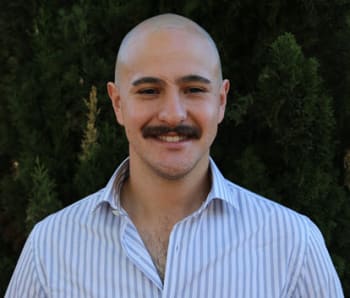 Sebastian Isa, 24 from South Australia, was cruising along in his role as a science lab worker but was hungry to stretch his skills and credentials in a new direction.
The world of data and coding had always been of interest to Sebastian, but he was unsure about the process of starting on a whole new career path.
When he spotted an ad for Generation Australia's Data Analyst program, he knew a fresh world of work was just 13 short weeks away.  
Fast tracking workers into in-demand careers
Figures from the Tech Council of Australia, show the tech workforce has increased 8 per cent in the past 12 months. In particular, the demand for data analysts has tripled in the past five years and is one of the fastest growing areas in tech.
Generation Australia launched its first Data Analytics program in September 2022 to help build the pipeline of talent in the data and technology space.
"We're seeing large and small businesses across a number of different sectors, such as finance, retail, healthcare – and even entertainment – seeking people with expertise in this field," says Malcolm Kinns, Chief Executive Officer of Generation Australia.
With his strong background in science and research, Sebastian was one of the first students to be accepted into the Generation Australia program, fast tracking graduates into the in-demand careers. 
"I was interested in all aspects of data and the impact it can have on an organisation. My existing skills combined with the Data Analyst program provided me with the perfect foundation for a career in the sector. In just 13 weeks, I was able to gain all the skills necessary to succeed in this industry," says Sebastian.
Sebastian graduated in December, and by March 2023 was working as a data officer with online education provider, Open Access College.
Unique programs offering holistic support
Generation Australia's programs offer more than technical skills. It also provides students with the key behaviours and mindset skills required to be successful in a role, such as communication, teamwork, persistence and future orientation. 
What's even more unique is the post-program support that provides unwavering support to graduates once they've completed the course.
"Bella was assigned as my mentor and was incredibly helpful. I learned how to craft my resumé and participated in mock interviews so I could showcase my new skills with confidence and ensure I was putting my best foot forward," says Sebastian.
With a close network of volunteers and mentors supporting graduates and participants, Sebastian believes the sense of community helped him gain confidence and be prepared for his future.
Securing employment with confidence
Armed with the fundamental skills to gain a job as a Data Analyst, Sebastian was on the hunt for his next role.
"I was excited to re-enter the workforce and to find a job that I would be passionate about and explore industries that I would not have thought of before."
"Generation Australia really helped with my confidence, assuring me that my skills and experience would be enough for me to apply for any job I wanted," says Sebastian.
Don't be afraid to try something new
Sebastian invites those who are self-starters or looking for a new role to try programs like those offered by Generation Australia.
"A career change can be daunting, but I think learning new skills is a great place to start. At Generation Australia, there is always a network of support and someone to guide you every step of the way," concludes Sebastian.
If you're looking to learn new skills or start a new career, get in touch with us today: https://australia.generation.org/programs/