Jerome | Australia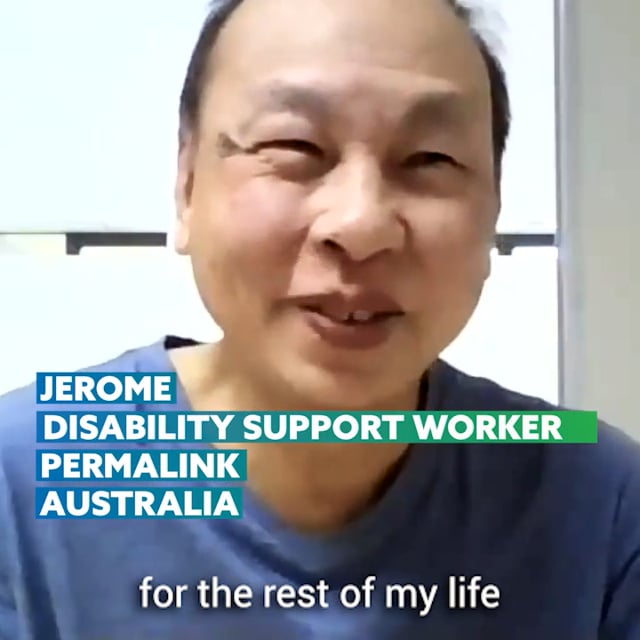 LAID OFF DURING COVID-19
Jerome worked in restaurants and cafés in Australia for many years, but he lost his job when the pandemic started. With the future being uncertain and no end in sight to the lockdown, he says, "I was looking into every possibility."
AN UNEXPECTED OPPORTUNITY
Luckily, he happened to receive an email about Generation Australia's Disability Support Worker program, which changed everything. As it happened, Jerome had spent time volunteering in Vietnam with children who had disabilities. He found that he had a unique ability to work with kids that others struggled to connect with and wondered if this could become his new career.
Jerome completed the Disability Support Worker program entirely online in Sydney and landed a job with a Generation employer partner. But, soon after, circumstances led him to relocate to Melbourne, where he began a new job search.
With the new resume he honed at Generation and all the job acquisition skills he had learned, it took him only a month to find a job in Melbourne, even though this was a new field for him.
FINDING A PURPOSE
Now that he is employed, he feels that he has found his calling. "This seven-week intensive course, and the job I'm now in, is very fulfilling. And that is what I'll be doing for the rest of my life, I believe."
He felt that Generation taught him the technical skills needed to do his job, and the mindset and behavioral skills that helped him relate to his clients. "As a disability support worker, we were taught to be very patient. Act as though I'm in their position. And once I'm able to understand them in a sense, it makes my work a lot better."
Jerome says the Generation experience has given him a lot of confidence in his work, even though he's never done it before. And he appreciates the sense of a safety net he continues to have with Generation: "If we have any stumbling blocks, we are always able to go back to Generation Australia and ask them for guidance and support. And that's how we grow."
Being a disability support worker is not about the money for Jerome, though he says it's more than sufficient. He can grow savings from his earnings to use for future volunteer trips overseas.